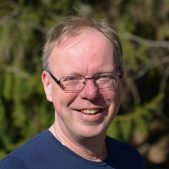 Model Railroad Academy is excited to announce our newest contributor: Martin Tarnrot. Martin is a professional model railroader from Sweden and has been a railfan from a young age. We sat down with Martin to learn more about him and his model railroad journey!
About Martin
I was born in Stockholm, Sweden in 1970. My father had been working since late 40s within the medicine industry and were often travelling for business to Germany. He then sometimes brought back H0-scale trains, which at the time were very precious toys for any kid in Sweden. We together started to build my first "own" model railroad when I was seven years old.
My father was also a dedicated photographer. He had a Super 8 camcorder, which he used to capture every family event. His super 8 camera and collection of "Annual Book of Photography" has laid the ground for my interest in photo and film. I still today have his camera hanging on the wall in my studio with the editing device he used to cut and glue the strips of film together.
My mom was active in several different charity communities, but probably had a bit of remorse over the time she spent there instead of spending the time with me. I had to come along on numerous meetings every month. However, the good part about this was that she bought me a H0-scale house kit for each meeting, so I had something to pass the time with. The layout therefore quickly got populated with houses and structures.
Model Railroading has been my platform of friendship and learning my entire life. I discovered the world of electronics back in 1981, when I got help to design and build my first signal mast using 3mm LEDs. This triggered me to learn electronics design, first analogue and later digital. Ten years later I graduated from school as an electronics design engineer.
I was then working for 30 years as an application engineer explaining to customers what they need to know about motion controllers for industrial robotics. How to set up Night vision compatible displays in helicopters, how to optimize the user ergonomics in excavators and studio broadcast equipment, and how to achieve EMC in a Cell phone test chambers.
When YouTube came online back in 2005, I noticed that they were missing someone who knew a bit more about model railroading than most, who knew how to set up the light and a camcorder properly and who could explain how to build model railroad in a simple and inspiring way. I followed that route and it has been two years working full time as diorama artist making how-to videos.
Making How-to videos is not about "knowing it all" or "being the best". It´s about spreading inspiration, which enables the viewers to push their creations to the next level. Which is what I hope to do at Model Railroad Academy.
-Martin Tarnrot