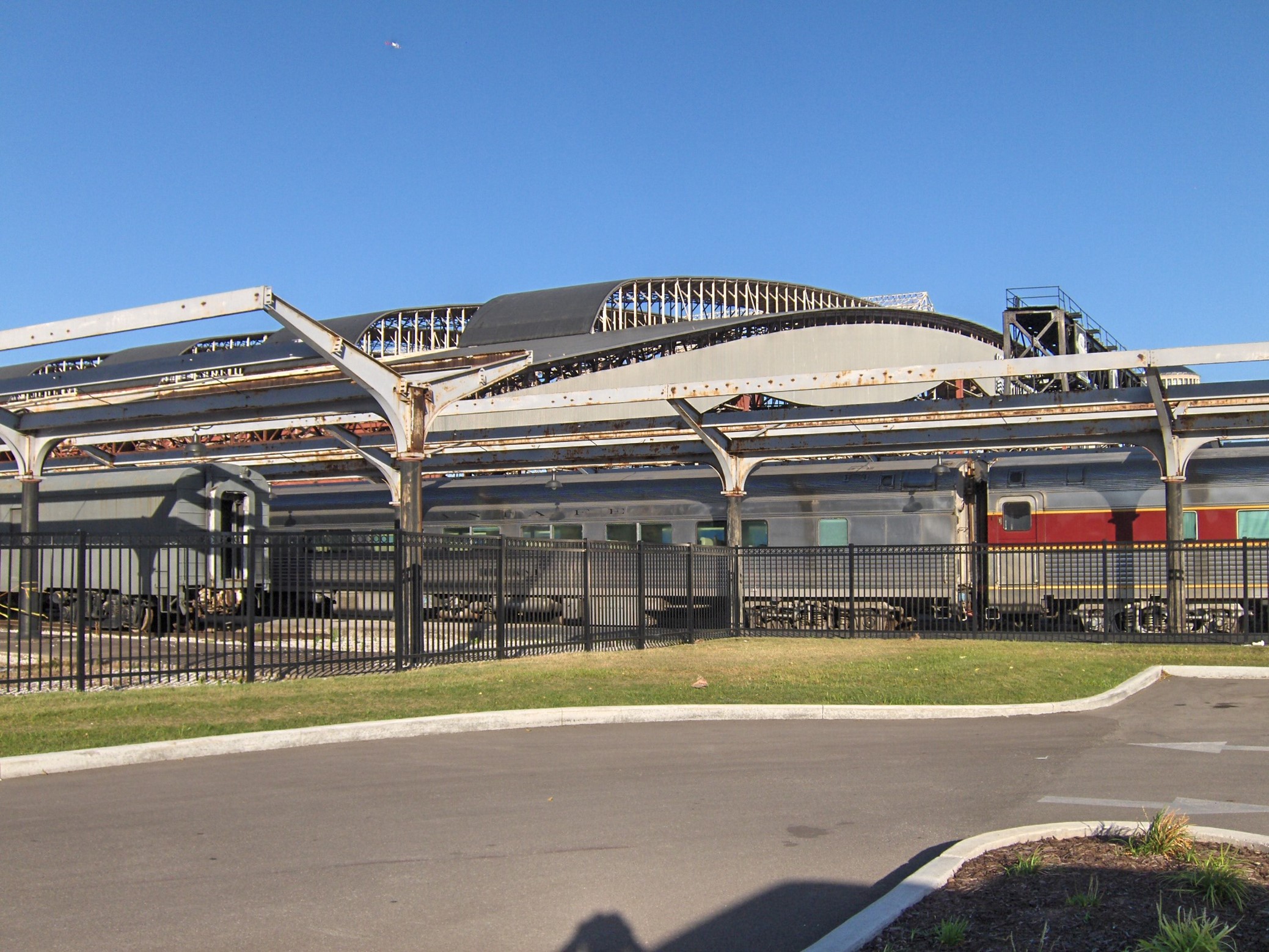 What is it like to ride a private railroad car for ten days? While this experience may not be for everyone, those of us with a devotion to trains can find this a wonderful vacation. Expect first class service on a private car even though Amtrak is trying to reduce the movement of private cars. There are about 100 private cars in the country but not all are available to charter. So how do you find a suitable car?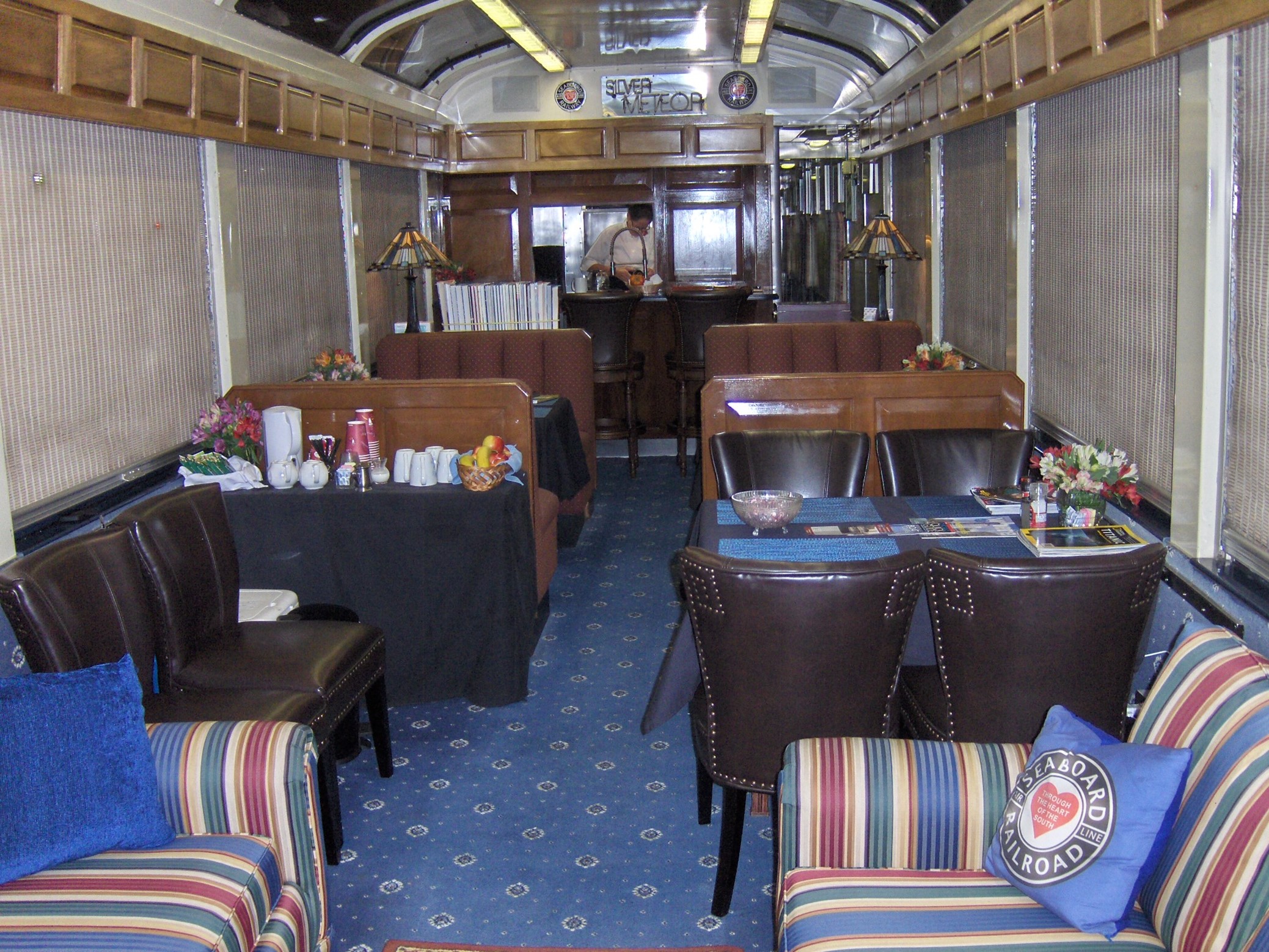 To find a car I suggest you go online and search for private cars. Rail Serve is a great site to use. This is an interior of the lounge and galley with your own chef on the Hollywood Beach.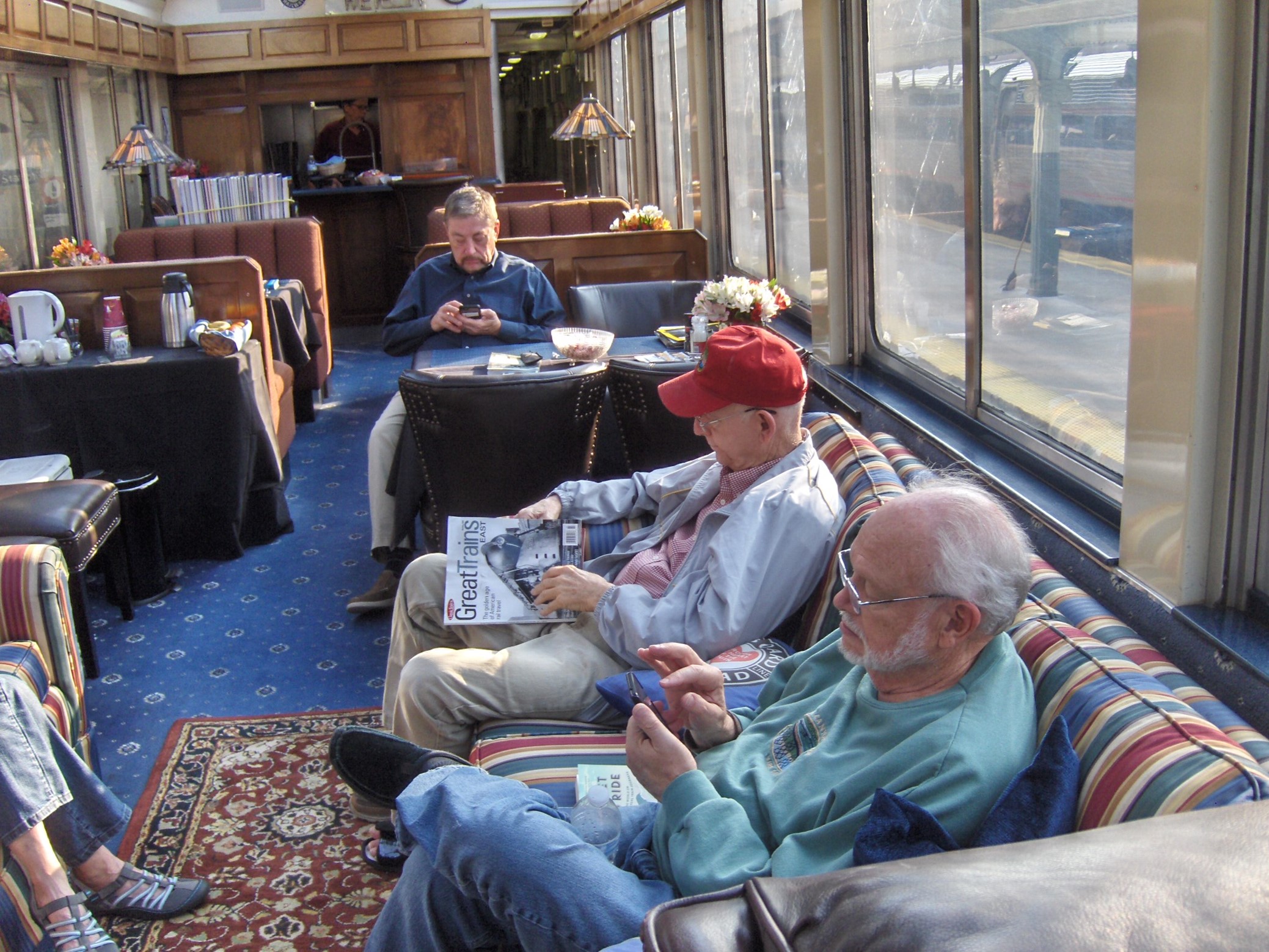 There is plenty of time on board to read about trains and to catch up on your phone addiction. Cars can have a lounge such as this one or be all bedrooms. Other cars have only coach seats. I would recommend chartering a car that has a kitchen, a lounge, and bedrooms.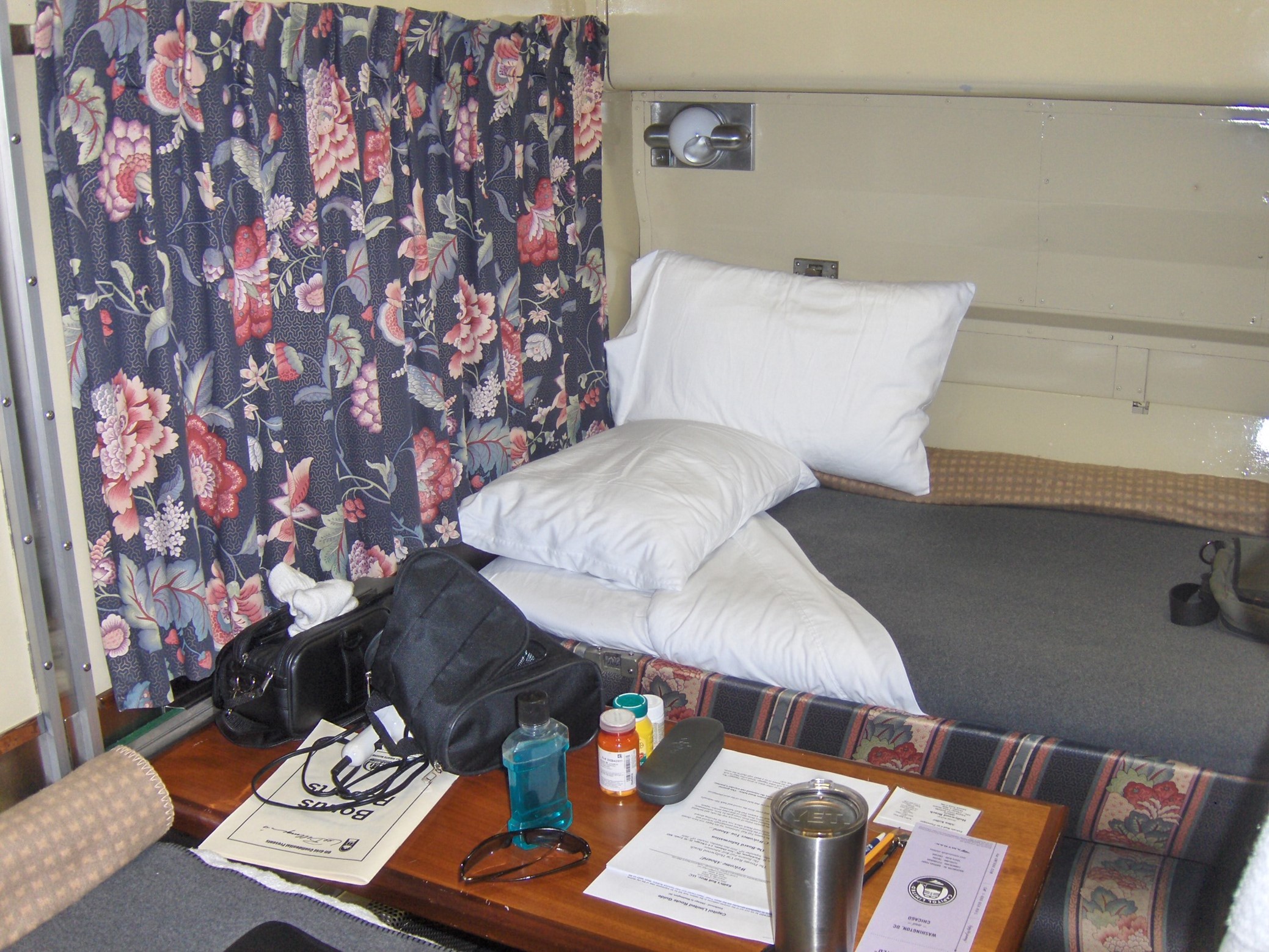 Cars can have 4 or 5 double bedrooms, but at least one of the rooms must be reserved for the crew, generally a chef and a mechanical officer who oversees the connection with Amtrak. Private cars usually run as the last car on an Amtrak train.
Many cars have a toilet and washbasin in each room. Some have communal showers at the end of the car. You must remember that these are historic or vintage relics of the great days of train travel and it helps to go with the attitude that you are experiencing what it was like to travel in the golden days of railroading.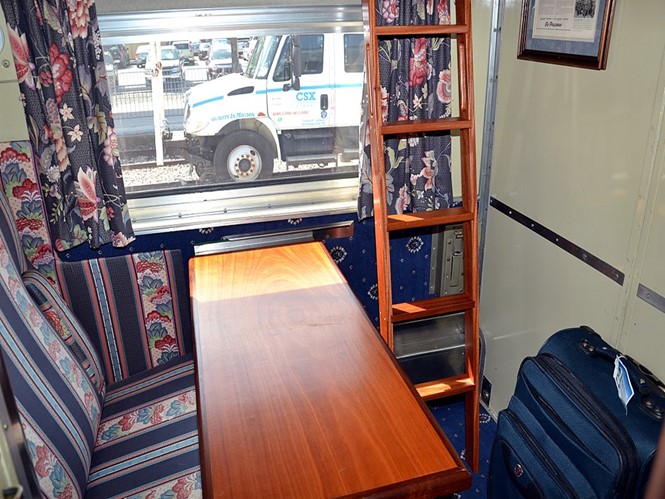 You will notice that you must be spry enough to climb a ladder if you are in the upper bunk. Sometimes the headroom up there is a bit limited and sometimes not. The car we rode recently was a 1956 car built by Pullman-Standard for the Seaboard Air Line Railroad. It was quite different from the 1934 Pullman I rode 3 years ago.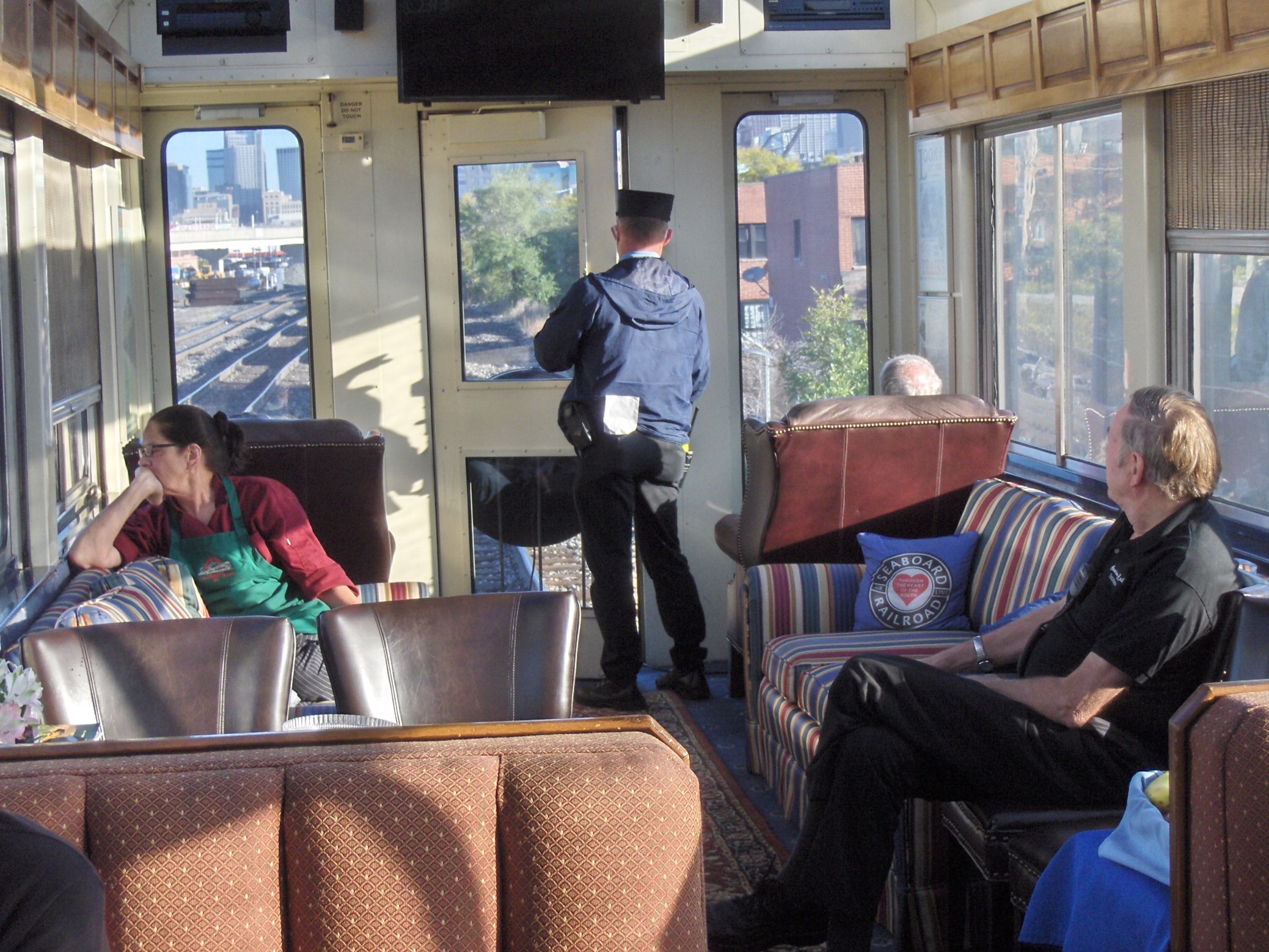 Here the chef and mechanical officer take a break as the car is guided into a station by the conductor who boarded our car after a stop. Notice the two recliners and the big windows, so great for viewing the passing landscape.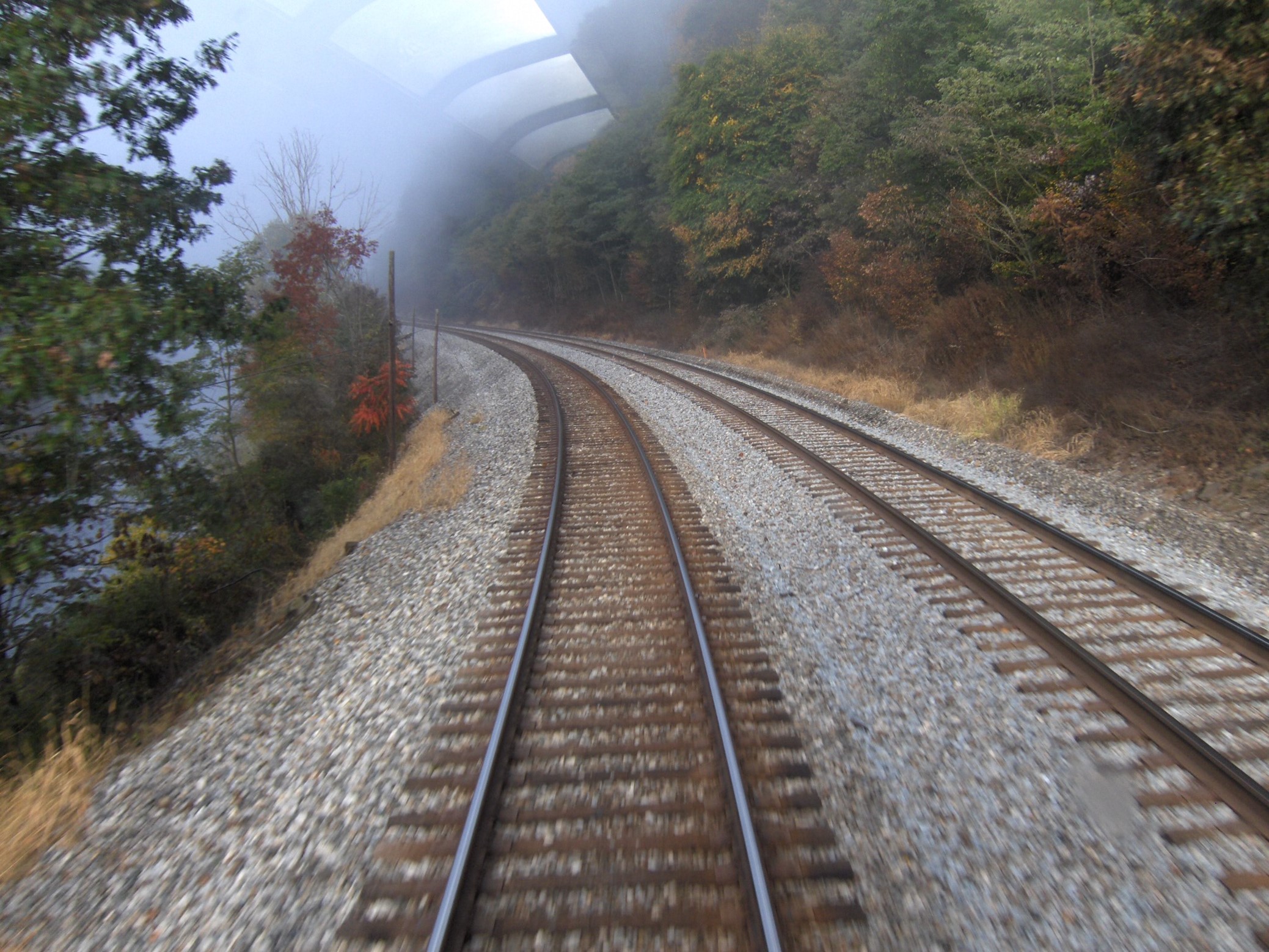 Here is what it is like to watch the world go by from a Pullman car. See the reflection of the overhead dome like windows. They gave us all a terrific view of everything, especially the mountains. Sitting in the recliner and watching the track reminds me of being on a track inspection car!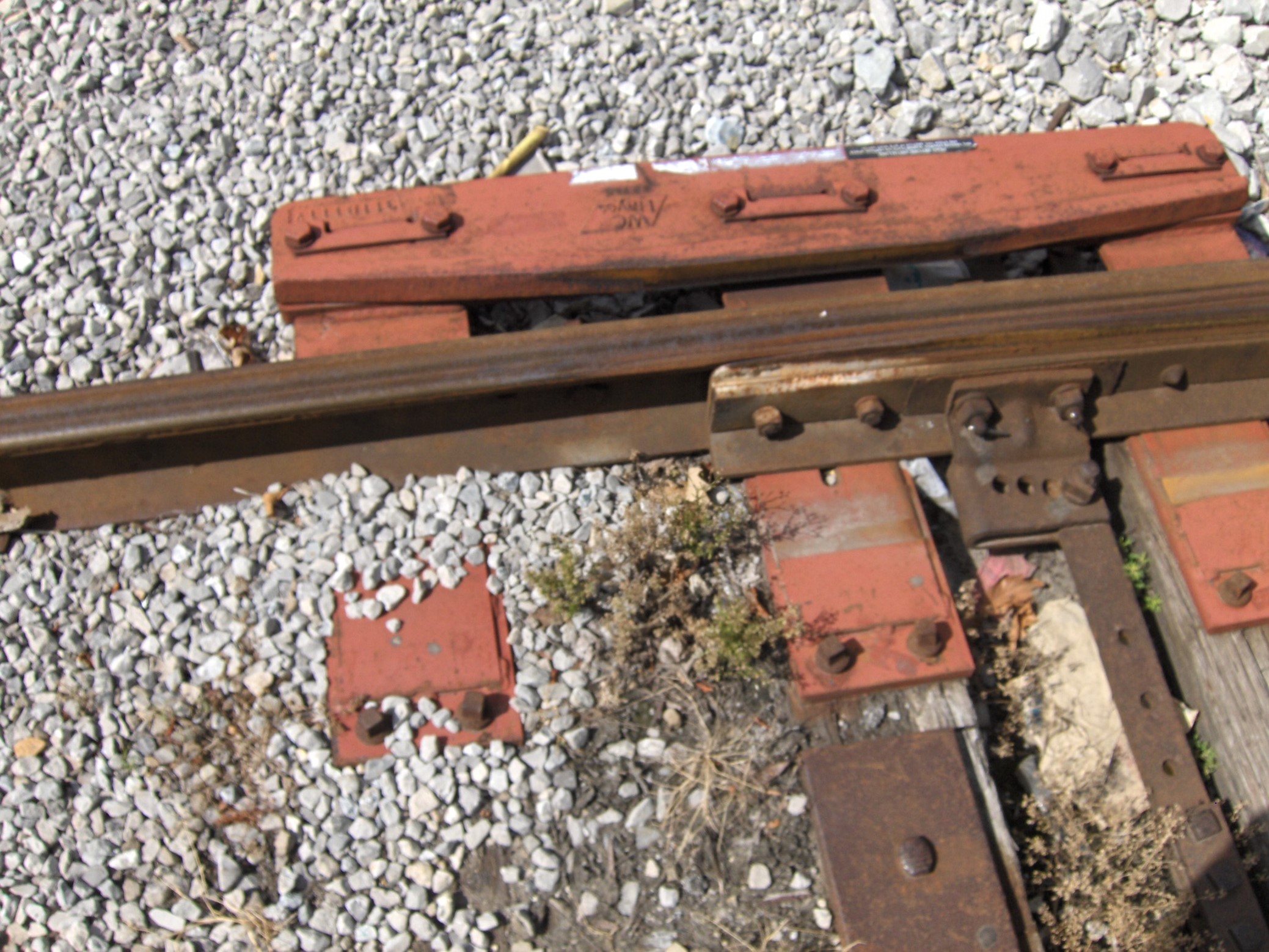 Being on a private car gives you access to some interesting areas to see rail related items. Do you know what this is? I didn't — it's an Outside Point Protector for use on a tight curve. It keeps the car from derailing at tight switch.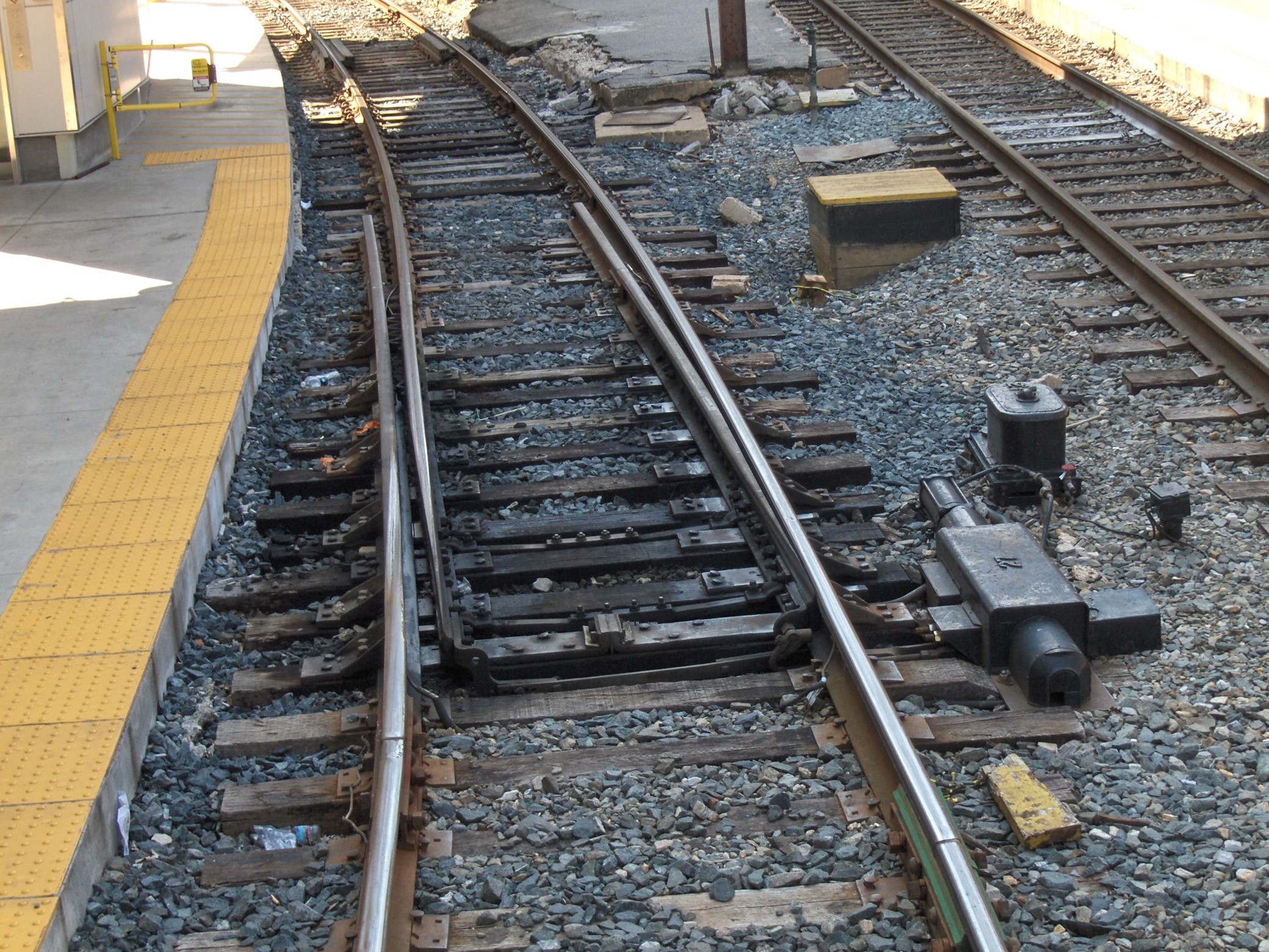 This is a different example of a derail. This appliance is set to put the car on the ground, so it does not foul the main track. This is why it pays off to spend time in a yard, you can see some very interesting stuff.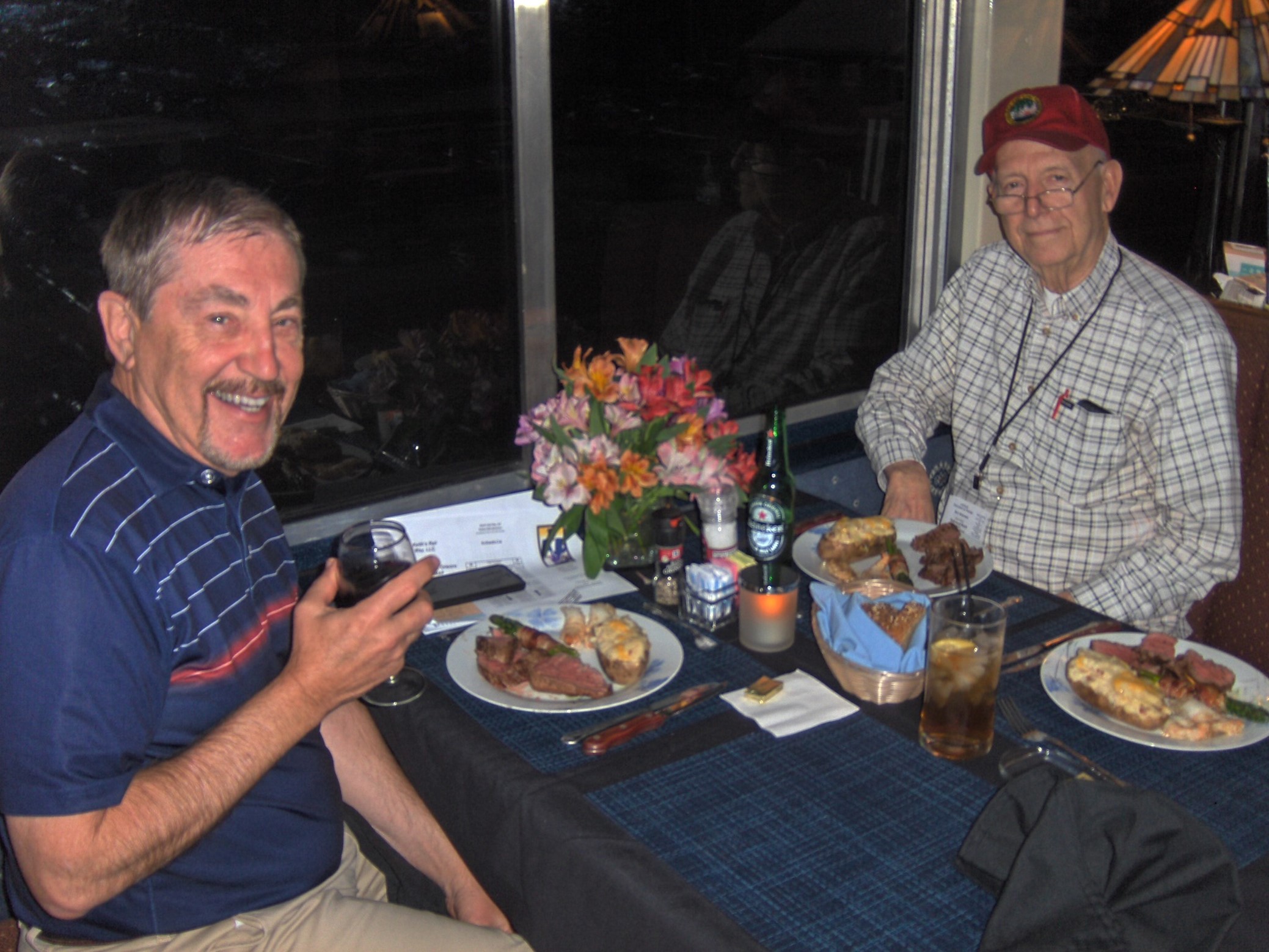 The food and drink on a private car is exceptional! All meals on the Hollywood Beach were made from scratch in a tiny galley by an experienced railway chef. She also served as the bartender and kept everyone fully satisfied with libations of all sorts.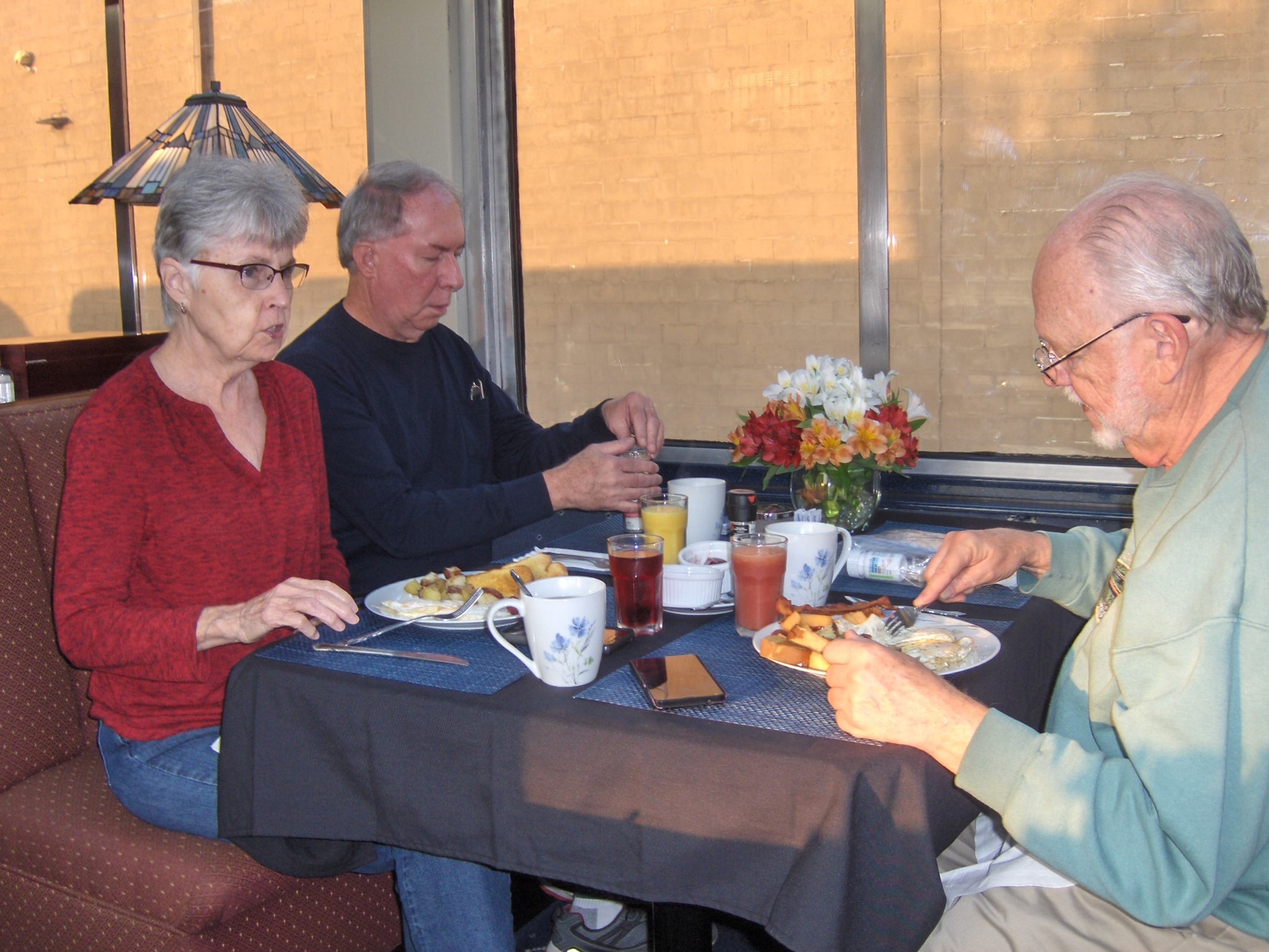 We enjoyed many breakfasts on the car with eggs or waffles or pancakes. Whatever you wanted was available at some point. She even made her own Hollandaise Sauce for Eggs Benedict. Coffee was offered early even before the sun came up. We never wanted to miss a chance to see the country from the huge windows of this car.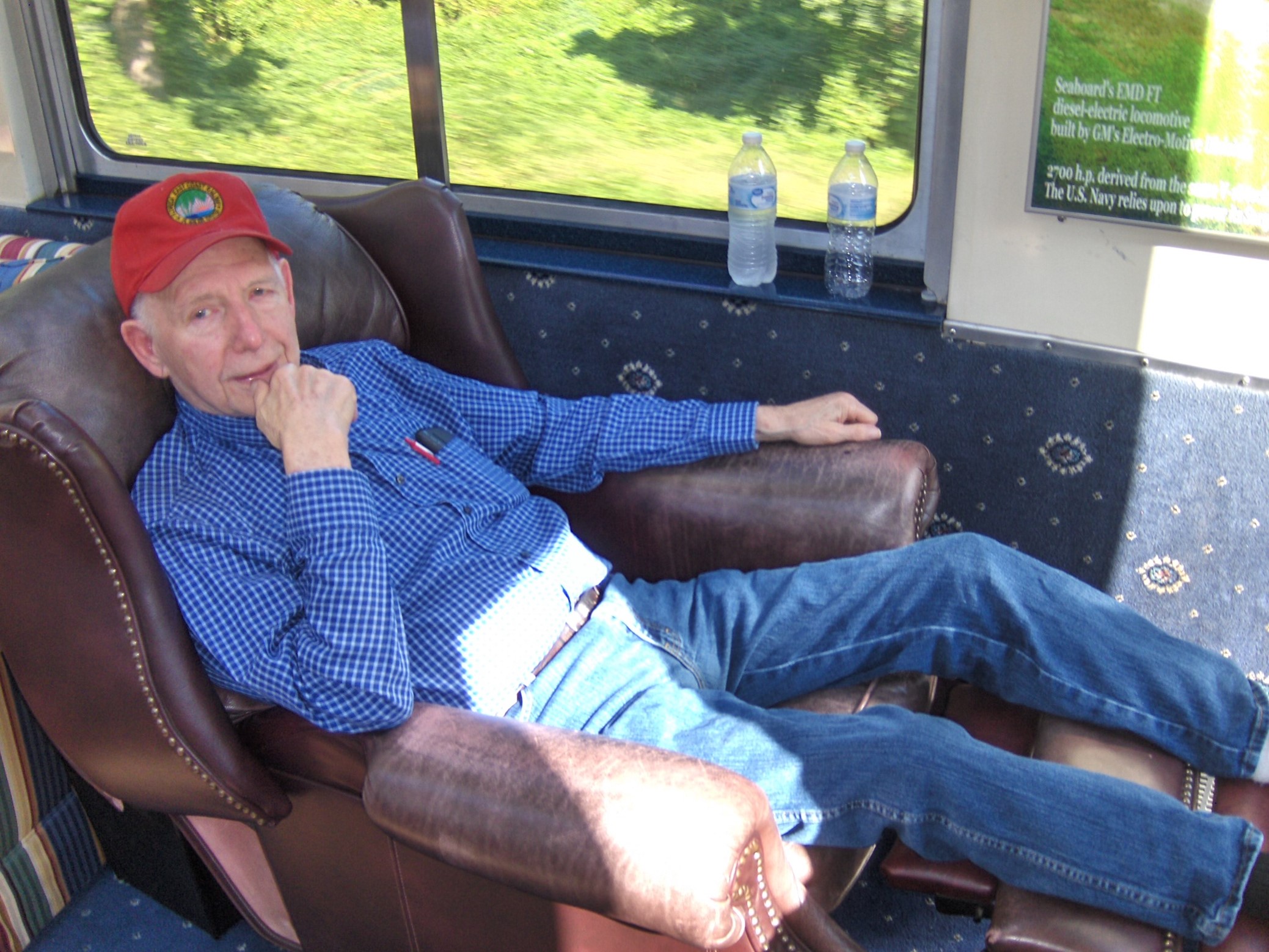 When all is said and done the Hollywood Beach was great way to travel in comfort while our fabulous crew took care of everything. I hope to write some more about our trip with pictures of where we went.