When I'm giving tours of my layout it seems that I get more questions about "how did you get started" in the hobby from NON-railroad guests than by actual enthusiasts. It could be that many model railroaders share similar roots – we witnessed and experienced prototype railroading when we were younger and perhaps – as in my case – I was given an American Flyer set when I was 5 or 6. Therefore, we railroaders don't often ask that basic question of each other because we have such similar stories.
Yep, it's the guests who ask, perhaps because it seems somewhat nerdy to them that a "reasonably normal" 66-year-old still "plays with trains" and enjoys it. But as most of us know, there's so much more to our hobby than just running them in a circle around a Christmas tree (not that there's anything wrong with that!) and then packing them away for another year. For many of us, it has been a lifelong, yearlong passion – such as it is for my MRA colleague, Doug Hodgdon. Not so for me – there was a 30-year gap in my "playing with trains!"
Where It All Began
I started with building plastic Revell models with my Dad, who had fought in WWII, was wounded twice, and had begun a family of all boys in 1948. Building models wasn't a luxury he had been able to enjoy during the Depression and he seemed to enjoy it as much as I! Assembling and painting model planes and cars was a way Dad and I could bond when we weren't playing baseball, basketball, or football in the backyard. I still have the first model we made together – a Model T (incidentally, Dad's first jalopy) – and I treasure it now more than ever after Dad passed away in 2015 at 92.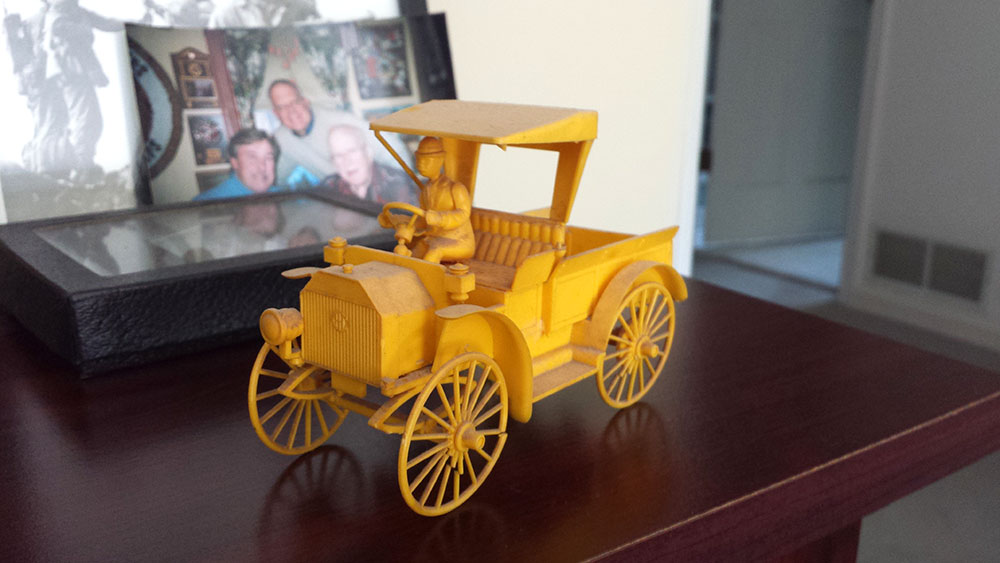 Steve's first model.
After I received my first S-gauge American Flyer train set in the mid-1950s, I tended to gravitate toward model railroading. Dad built a raised flat table, and following a Flyer track plan, we fashioned a modified dogbone layout with Plasticville structures.
An Interest in Railroading
Railroading was a natural interest for me, although for some reason it never resonated with my two brothers. We lived in suburban Chicago near the Burlington Route's triple racetrack, and the shrill whistle of a big O-5A Northern would draw me trackside to witness the final years of steam.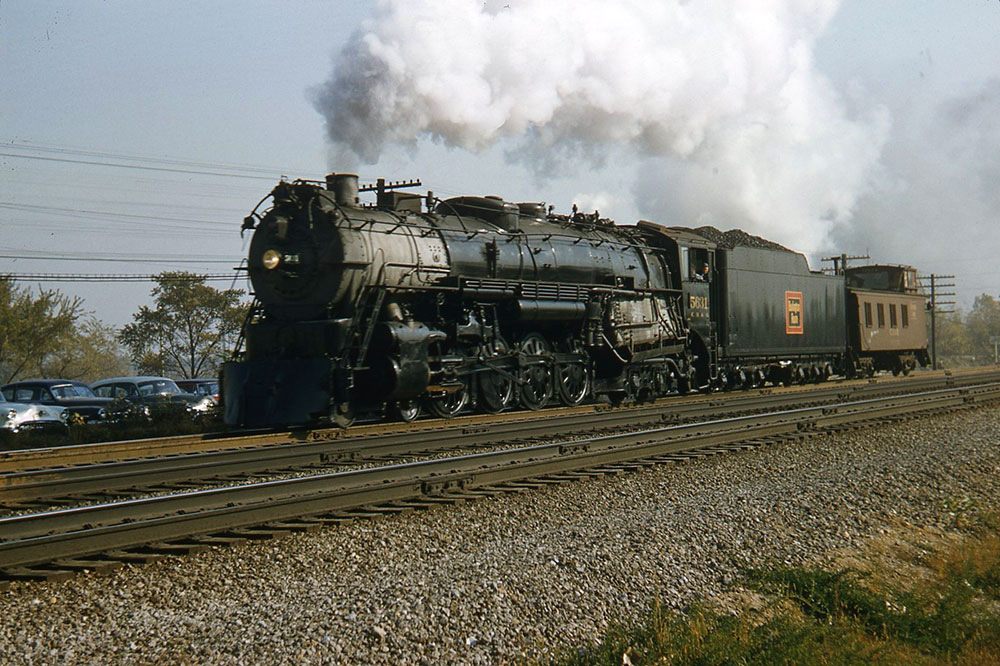 CB&Q Northern blasts through LaGrange in the 1950s.
In fact, my first run-in with the authorities occurred one summer morning in 1957. I was "detained" by the CB&Q RR police for placing small rocks and pennies on the tracks and watching diesels flatten them paper-thin. Turned over to the LaGrange police, I was placed in a jail cell ("Scared Straight!") until my Dad could come down and "bail me out." Sent to my room for the rest of fine, sunny Saturday, I learned my lesson. That my Dad didn't seem to have much heart in administering the punishment, I think, attested to the fact he'd probably done exactly the same thing when he was a kid.
Dad rode the "Q" Gallery cars into and out of The Loop most days and my grandmother would visit us from Galesburg, IL – an important rail center – aboard the iconic California Zephyr. Dad, as a youth, had even witnessed the CB&Q's Pioneer Zephyr record-shattering Denver-Chicago run in May 1934 through Galesburg. (Click on the link to watch the video.)
Dad also became a "callboy" for the Q since his family had one of the few home telephones in his neighborhood at that time in the Depression. He would ride his bike to summon the engineers and firemen to their daily assignments at the Q roundhouse. In the late-1950s, I remember seeing long lines of steam locomotives, their rods dropped and fires now cold, awaiting the final journey to the scrapyard and the cutter's torch. That sad scene remains burned in my memory to this day. So it seems I came to love railroading and the CB&Q because it was "bred in the bone."
New Diversions
After a move to Minnesota at the start of high school, the Flyer set remained packed away as these were the heady, exciting days of Mercury and Gemini, and model rocketry became my primary hobby. Building precisely with cardboard and balsa tubes and fins, model missiles that soared in a whoosh to 1000 feet and parachuted (I hoped) safely to earth seemed more exciting than building a railroad layout that just went 'round and 'round.
I never did lose that interest in working on small, accurate details with my hands. Later, when I became a TV anchorman, I would carve large wooden ships and fashion intricate spider webs of rigging from waxed thread late at night in order to ramp down after the adrenaline-rush of broadcasting the 10pm news.
But I never lost my interest in trains either, even though the Burlington Route had by then joined a long list of Fallen Flags lines. I still never forgot my first Flyer layout and longed one day to build my own more detailed miniature world from my youth.
But it was one chance event that actually sparked the latent passion in the hobby once again. What happened… in my next blog.