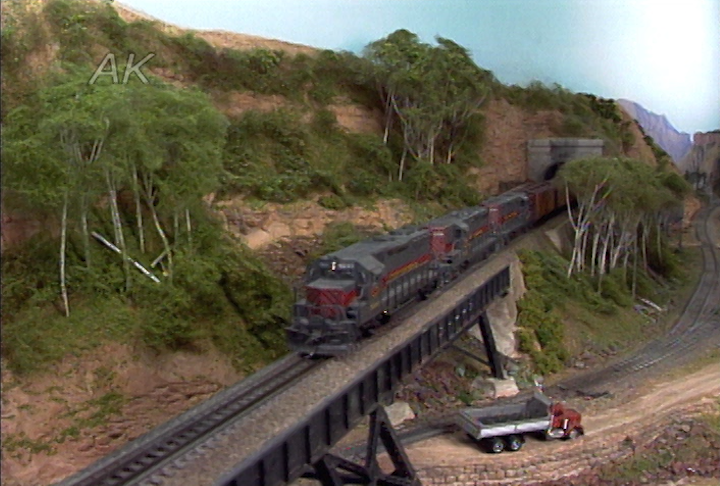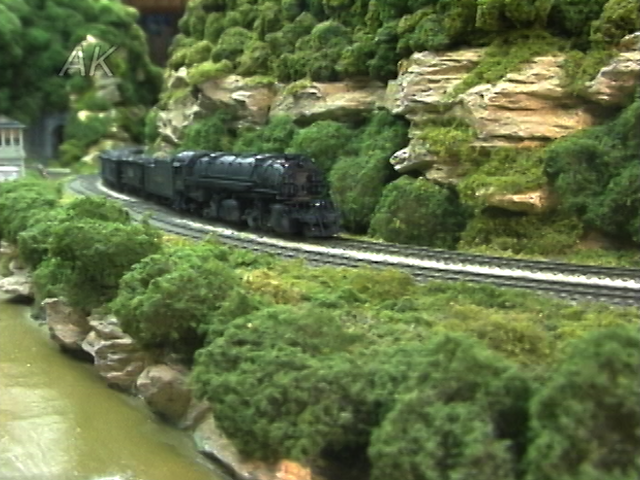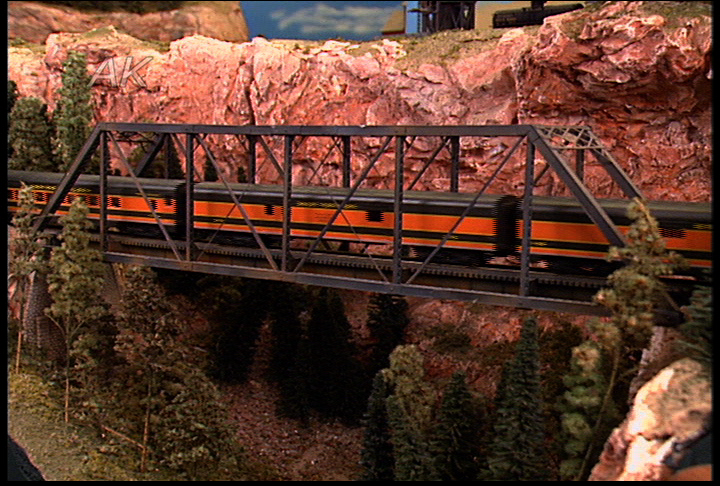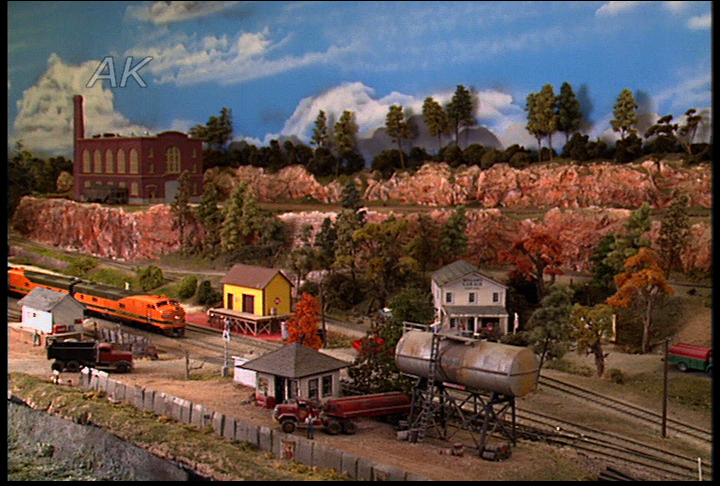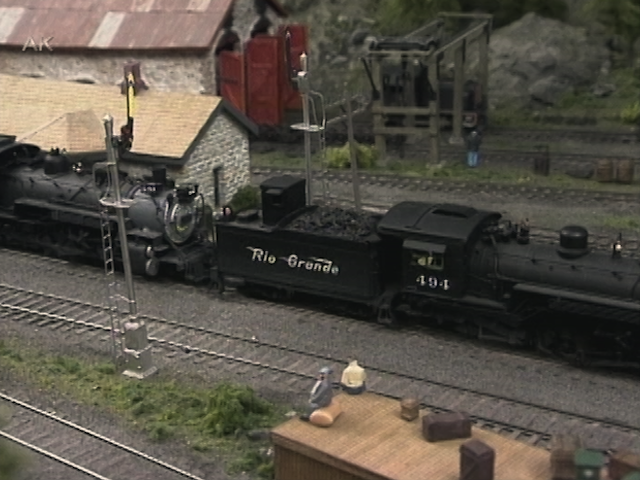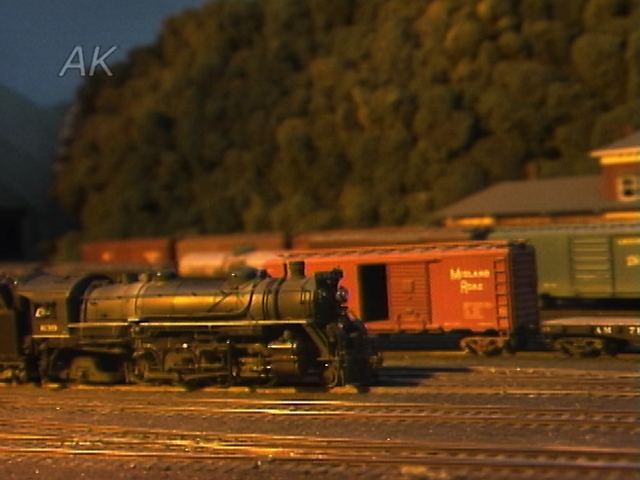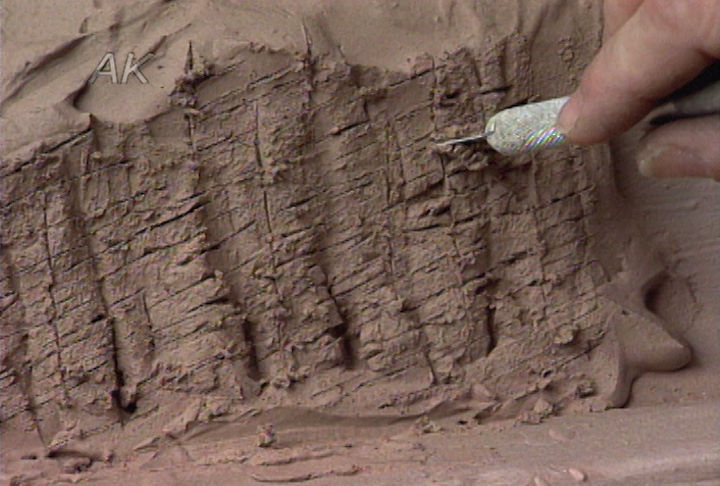 Mountain Terrain 4-Download Set
You Save 75%
U0815U
Description
4-Download Set: Mountain Terrain
One of the most exciting and inspiring aspects of model railroading is creating believable scenery. These videos are sure to give you some great ideas and techniques for making your own mountains. 229 minutes.
Al Lindop's Utah Midland Railway – 52 minutes
The Utah Midland of Al Lindop features the dry look of the Utah high country. Al has beautifully modeled a 20 mile coal hauling railroad that's based on the Utah Railway. This HO layout features beautifully detailed steam engines and first generation diesels pulling long strings of hoppers through Spring Canyon and over high trestles. Al will even tell you how he weathers his extensive hopper fleet. The gorgeous canyon scenery goes from knee level to above eye level, and the scenes from onboard the train will take your breath away! Al does not use any rock castings for his sandstone cliffs. Every rock face is carved in place, and Al will show you how he does it. You're sure to enjoy the special segment covering all train action on the Utah Midland from dawn to evening. This is a truly super layout with structures built in place to fit the steep mountain terrain.
Doug Geiger's Granite Mountain Railway – 60 minutes
Doug Geiger's Granite Mountain Railway is a three level HO layout made for operation. Doug has modeled an East-West bridge route thru the Colorado Rockies to Washington state with 3% grades in some places. That means helpers on his long freights with diesel and steam power. A helix is the trick that makes a multi-level railroad a reality, and Doug will describe some of his methods for building the 3 on the Granite Mountain. Doug will also show you how to reduce derailments with a few modifications to common boxcar kits. A railroad that fills a 43X23 foot basement needs lots of pine trees, so Doug will share his method of making them from jute and wire. You'll enjoy the work of this master layout planner/builder and his Great Model Railroad, the Granite Mountain Railway.
Tony Koester's Allegheny Midland Railroad – 59 minutes
Join us as we take a trip through the high mountain rails of West Virginia to explore Tony Koester's unique model of Allegheny Midland Railroad. Tony's scale model still stands as one of the most ambitious model railroads the world has ever seen. Follow along and learn about methods of modifying common plastic kits into one-of-a-kind structures and much more!
Chuck Ellis' Great Northwestern & Pacific – 58 minutes
"The Great Northwestern & Pacific" of Chuck Ellis crosses the U.S. from Duluth to Seattle in the 1950s. Most of the area is covered with gorgeous homemade mountain castings. The 1500 sq. ft. HO layout was built without a trackplan except for what Chuck saw in his mind. Chuck is a master builder of highly detailed structures. Because the GN&P owns no equipment the line runs locomotives and cars from many different road particularly the Great Northern. Chuck will show you how to paint drivers, make river banks, create peeling paint and build trees.