In this installment, I'd like to suggest various types of railroad layouts (in no particular order) from which you can derive inspiration for your concept:
Club layout:
I've visited some really great clubs – they generally can allow HUGE spaces beyond the range of the typical model railroader. Think long trains, wide curves, and plenty of scenery. Having a dedicated group of guys working on multiple projects can accomplish a lot as well as be rewarding and fun. The idea is that you inspire each other.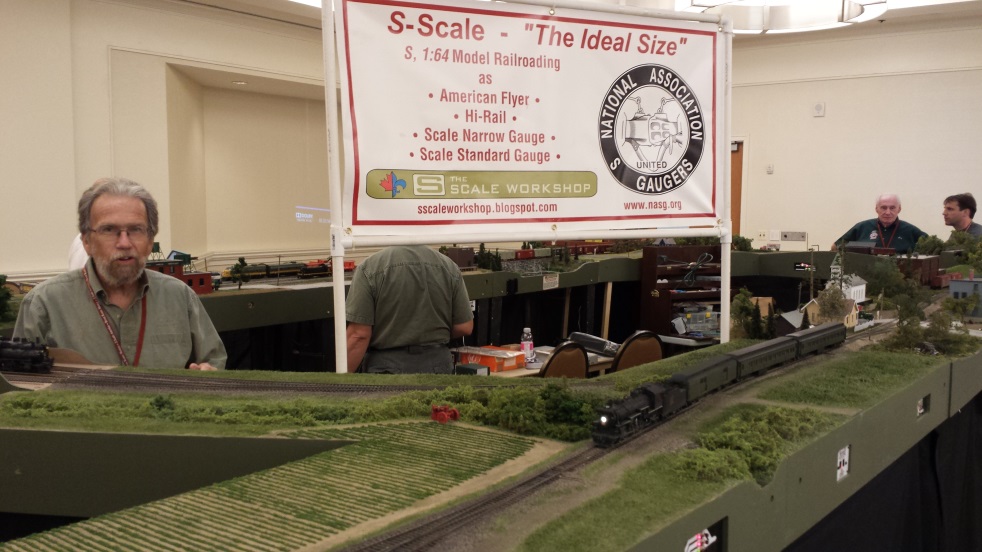 Traveling Club modular layouts are a great way to introduce model railroading to the general public.
Caricature layout:
I would call it a Disney-esque display of creativity. The modeling is of great detail, but may incorporate multi-scale components to draw the eye and create a theatrical experience.
Commercial displays:
I've been doing commercial displays for almost 50 years now. A train can be a decor element for a bar/restaurant, a hotel, an office, or a museum. I use large scale for the visibility factor and for its heavy duty, outdoor-style of construction. A commercial train can put on lots of miles during the course of a day, weeks, and months. I always use metal wheels. The plastic wheels just don't hold up.
Scenery is optional on these layouts, but I think long bridges and tunnels are a great effect and add mystique. I do use lighted building flats in some cases.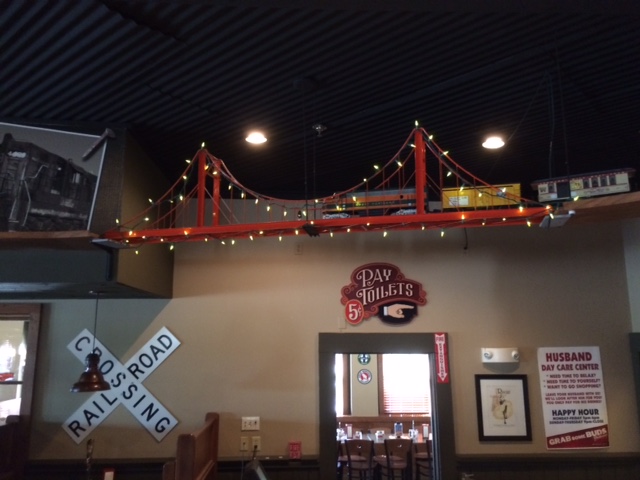 G-scale layout installed in bar/restaurant by author.
Three-rail scale:
What I would call a case for the collector-turned-modeler. Why not show off your collection by operating it through realistic scenery? On a well detailed three-rail layout the third rail becomes an afterthought. I like fresh ideas.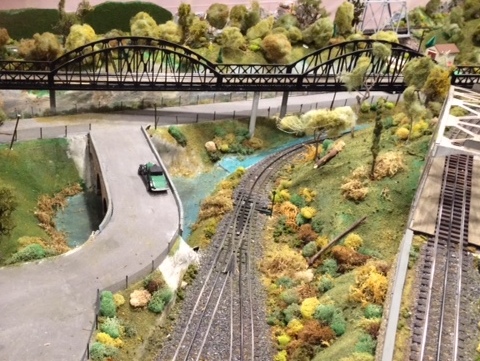 O-scale layout: with the right scenery and ballast, the third rail is barely visible.
Industrial, logging, and mining:
To me, these concepts are all quite similar. You might combine gauges (standard and narrow), antique or homemade equipment, sharp curves, steep grades, and spindly bridges. Add a shop area with all kinds of parts overgrown with brush. What's not to like?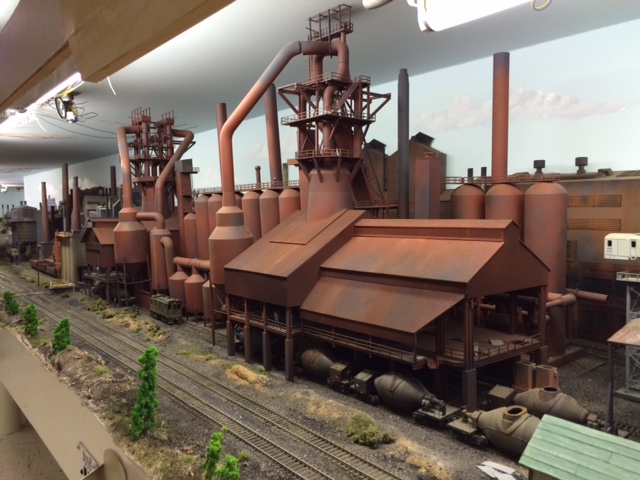 HO-scale steel mill makes a big impression and adds plenty of switching action.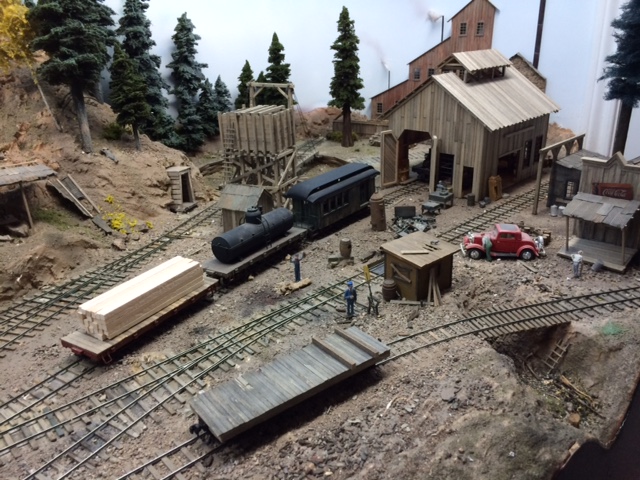 Logging and mining scenes are typical HO narrow gauge themes.
Horse car lines:
There is a re-creation of the South Pacific Coast narrow gauge line at the Carter Resources Museum in Newark, California. Horses actually pull narrow gauge cars at the museum. I'm not quite sure how you get a miniature horse to work? Robotics maybe?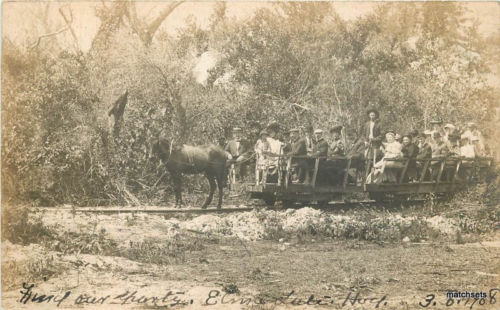 Horse-drawn railroad in Peoria, Illinois, pre-1906. Credit: Wikipedia
Tourist lines:
Imagine a line winding up a mountain top. A cog railroad can do that. Or, as in the case of the Mt. Tamalpias and Muir Woods railroad in Marin County, California, you can push open narrow gauge tourist cars to the summit with a geared locomotive, have lunch, and ride all the way back down by gravity, with the braking controlled by a brakeman on board. The line was called: "The Crookedest Railroad in the World."
Underground rail lines:
I've seen some very interesting modeling of underground rail lines. Europeans seem to be the most interested. They could be a very narrow gauge and maybe electrified and fit into a small space. I've seen mirrors used to view underground facilities. What a concept! They could be mine trains, subways, urban industrials, or even a rail system in an underground World War II bunker! Chicago had an extensive and fascinating urban underground rail network.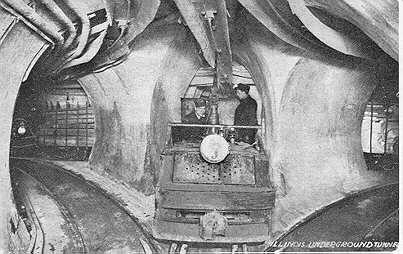 A view of Chicago's Underground Railroad, circa 1910. Credit: unknown
Railroad car ferries, hump yards, rotary dumpers and container ports:
Over the years modelers have invented various methods to animate these facilities. I'd love to hear of anyone out there who has taken on these complex projects and had success with them.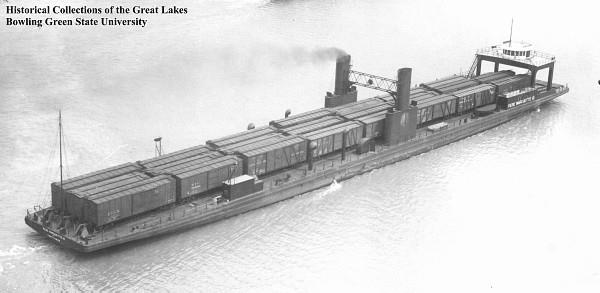 Harbor port scenes with railroad car ferries bring lots of action to switching operations. Credit: BGSU
Next time we actually build something! Stay tuned for benchwork!
More in this series:
So You Want to Build a Model Railroad Layout?
Choosing Model Railroad Track Configurations
Assigning a Theme for Your Model Railroad Layout
Ideas for Unique Layout Concepts
Tips on Trackwork
Helpful Tips for Model Railroad Wiring
Creative Ideas for Model Railroad Structures