The next installment in our ongoing series on planning and building a model railroad layout is all about layout themes. In case you missed our previous installment on track configurations, make sure to go back and check out that post for handy diagrams of common configurations. In this post, we'll talk about establishing a theme that makes sense for your layout, using my own as an example.

But before we get started, let me first say that if you need inspiration for your layout project, read Nothing Like It in the World, by Stephen E. Ambrose. The story of the building of our first transcontinental railroad is an unbelievably captivating account of the project from start to finish. If you have trains in your veins, reading this book will fill you with inspiration. Prepare your golden spike!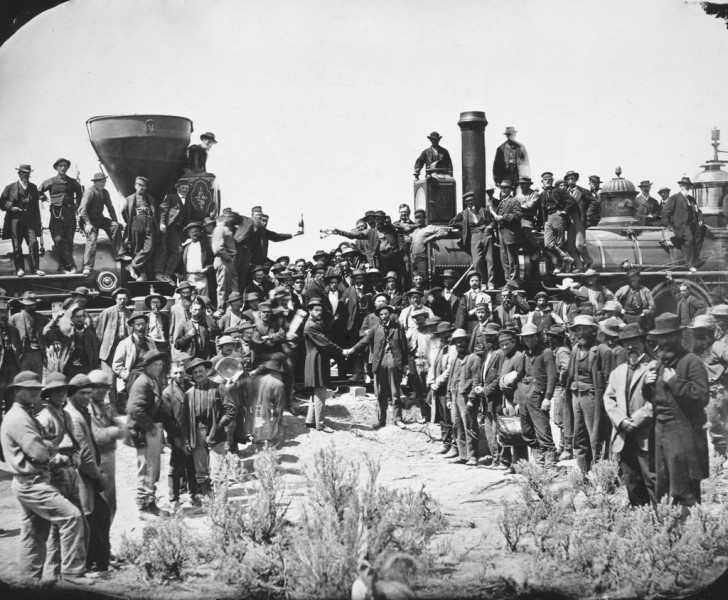 The historic Golden Spike moment
Now then, back to building our own empires. There are some things to consider regarding the space available, the curve radii, and possible helixes needed to accomplish your goals but we can discuss the details a bit later.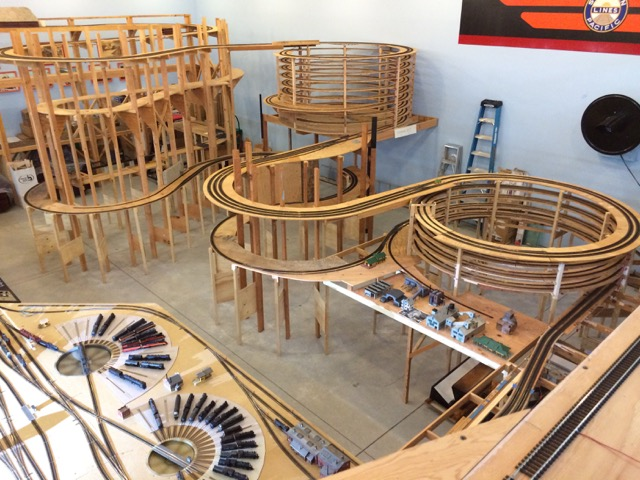 HO layout under construction with multiple helixes. Photo credit: Doug Hodgdon
More is better, right? But, take note: big steam, passenger trains, and modern cars running about 80 scale feet or more in length need wider curves and clearances than other shorter choices. Double-headers and long trains are cool, but as much as I would like to operate a big-time main line railroad in my space, it just isn't possible. So in my case, I instead focused on what I could build.
My old HO basement layout featured a railroad in Northern California's Redwood country I named "Tidewater Southern." In a 20' by 20' area, I had plenty of room to model this fictitious short line.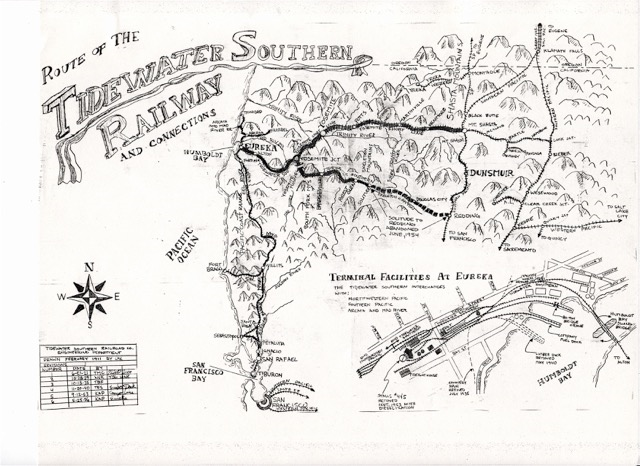 Map of Doug's "Tidewater Southern Railroad." Photo credit: Doug Hodgdon
Then when I sold all of my HO models and switched full time to S-scale (1/64th), I decided to convert the back wall of my garage for my next venture. My new space wouldn't allow a reasonable dog-bone curve for continuous running, so I designed a 2' by 18' shelf-type point-to-point industrial switching layout. My theme is to get the most enjoyment I can out of 36 square feet.
If you have a warehouse space and lots of time and money, I say go for it, but most of us live with restrictions on our rights-of-way, so compromise is in order. A layout doesn't have to be big to be great. I've seen some really fantastic small layouts. There can be great fun and talent in putting more in less.
My layout is a semi-fictitious stub-end standard gauge branch line off my favorite railroad, the Southern Pacific in California. Other choices are old time, short lines, narrow gauge, specialty industrial railroads, or trolley lines.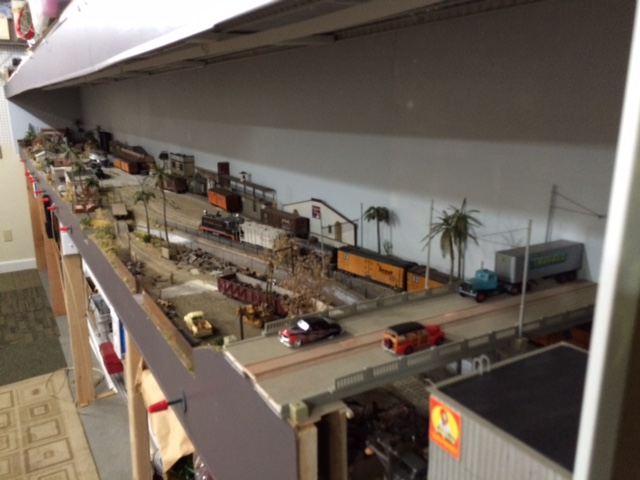 Doug's new switching layout featuring the Southern Pacific. Photo credit: Doug Hodgdon
I grew up in a town that had a 2' gauge railroad serving a creosote plant, and I have a collection of Southern Pacific narrow gauge equipment, but after considering the options, my SP standard gauge won out for layout construction.
I'd be very interested in your thoughts on layout design or space challenges you've overcome. Your comments are welcome.
More in this series:
So You Want to Build a Model Railroad Layout?
Choosing Model Railroad Track Configurations
Assigning a Theme for Your Model Railroad Layout
Ideas for Unique Layout Concepts
Tips on Trackwork
Helpful Tips for Model Railroad Wiring
Creative Ideas for Model Railroad Structures